2014 was a record year for US car exports*. Drivers around the world got behind the wheel of $62 billion worth of passenger motor vehicles from the United States last year.
This figure comes primarily from the 2.1 million new American-made cars and trucks exported to other countries in 2014, another record, up 8 percent over the previous year.
Canada was the top recipient, accounting for nearly a quarter of this trade. And although insignificant just a decade ago, in 2014 China ranked second for country-level US car exports, acquiring 18 percent.
In the Near East, Saudi Arabia and the United Arab Emirates were top consumers at $3.9 billion and $2.7 billion, respectively, while US car exports to South Korea jumped by 33 percent to breach $1 billion for the first time last year.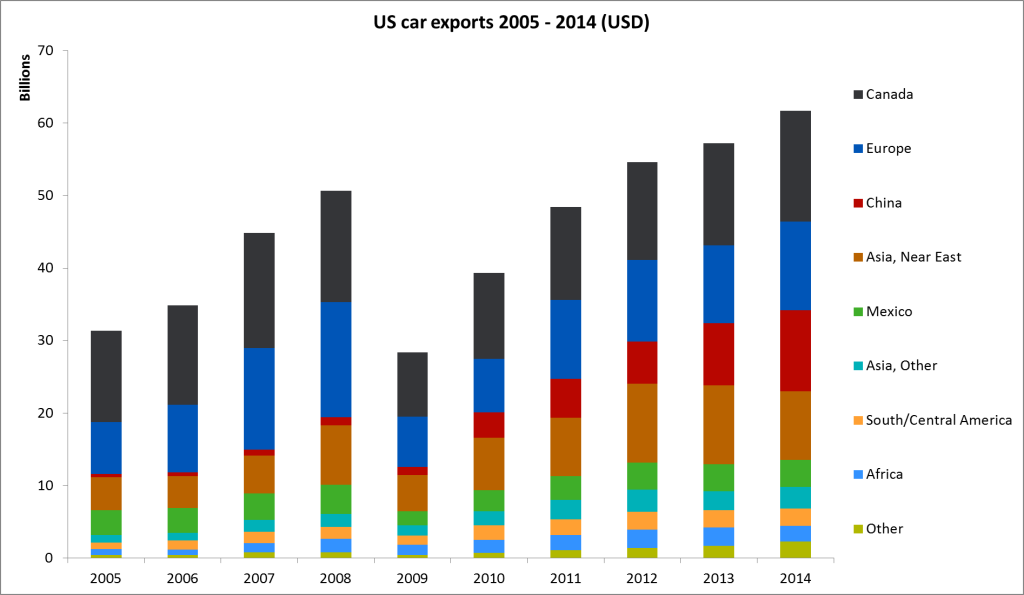 Imports too saw a record year at $155 billion, nearly 2.5 times exports, although the gap between imports and exports is gradually narrowing. It remains to be seen if this trend continues and 2015 results in yet another record year for US car exports.
*Schedule B 8703